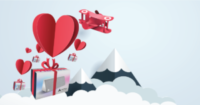 LOVE IS IN THE AIR!
This St. Valentine's, are you planning on going out on a romantic date with your special one?
Not too fancy, but something including all the important ingredients to make it a memorable one:
A great dinner, a beautiful spot, a lot of good jokes and funny moments that make life so very interesting and special.
Avoid arriving home with this good picture suddenly falling apart.
The door is opened (but why?) and the inside is all turned upside down. Oh my god, you think.  Burglars entered looking for valuables to take.
The thing is, there wasn't really much to take with them, except for the family souvenirs… the rest only has material value and anyways is all insured.
The very worst is the feeling of your home not being a safe place anymore.
WHAT TO DO?
According to statistics, intrusions and break-ins occur every 10 seconds in the United States, every 2 minutes in the United Kingdom, and every 3 minutes in Italy. This means that burglaries happen more frequently than you think, regardless of where you live! While data shows how easy it is to be burgled, the market has yet to solve this problem. The reason for this is that most existing alarm systems do not eliminate the risk of a burglary; rather, they detect the intrusion after the damage has been done.
Be prepared and prevent burglaries. Three areas to improve your home safety:
BE VISIBLE:
Burglars do spontaneously look for a target based on how easy and undetected their entry will be. If you have an alarm system and monitoring devices, make sure these are visible from outside of your home.
BE HARD TO CRACK:
Make sure your home has all the modern hardware (doors, locks, windows) to make an unwelcomed entry as nearly to impossible as possible.
ABOVE ALL, BE PRESENT:
Showing someone is inside your home is the key for burglars avoiding targeting your home.
KEVIN® simulates your presence, even when you are far away from home.
LOVE MIGHT BE IN THE AIR, BUT LANDING SAFELY IS KEY 
Everyone deserves a nice date. But more importantly, everyone deserves feeling safe.
This year, spend your Valentine's Day focusing on your special someone, friend, or family.
While away from home, forget worrying about your home security.
GET THE GIFT OF SECURITY
Get your KEVIN® before St. Valentine's using the code KevinLovesYou for a discount of CHF100,-.
Our special gift to you and your loved ones.
The world's easiest and most effective burglary prevention device.
KEVIN® – 3, like his forerunner, is all about PREVENTION. Burglars do not like being confronted with homeowners during a break-in, which is why they will check to see if anyone is inside the property before intruding. KEVIN® – 3 maintains its primary duty of simulating your presence, activities, and movements while you are not at home, casting lights and shadow effects and reproducing noises, planning time slots and working with geo-localization. KEVIN® – 3 will KEEP YOU SAFE by performing all of these functions that you already know about KEVIN® – 2. The only distinction? Everything has optimized on KEVIN® – 3.
KEVIN® – 3 is uniquely sophisticated: it has been refined with higher quality speaker, a high-end design and additional space for you personalized recordings. Indeed, KEVIN® – 3 has increased its storage capacity and can now simulate for more than four weeks instead of just one. You also get another personalization option: you can now replace the front cover, selecting your favourite colour from red, blue, white, brown, or grey. While KEVIN 2 is completely functional, KEVIN 3 has also become fashionable!
Do not forget about the app! KEVIN® – 3 works in tandem with the Mitipi – Kevin app in all its functionalities. It can be controlled remotely and reproduces lights, sounds, and conversations. You can still use the geo-fencing and time-scheduling functions, which allow you to choose when and how your simulation will take place!
We wish you a great St. Valentine's day, with whomever you decide to spend it with.

Focus on having a good time, not on your home security – Thanks to our KEVIN® innovation.