So Kevin is no longer alone at home, because together with the home security device Livy now gives the home all-round security. As Lockdown has shown, there is little better protection for any home than presence. Most burglars avoid apartments or houses where someone is present. They prefer to make easy prey in an abandoned home. As a result, the number of burglaries has dropped noticeably during the lockdown. In addition, fires are also detected more quickly by a person who is present, or are not even started in the first place.
This task is now taken over by Kevin and Livy when you are not at home. 14 superpowers unite the smart and smartphone-supported devices. From virtual roommates and Bluetooth speakers to fire protection and motion detectors with alarm text messages to friends, neighbors and family, everything is included. Kevin simulates presence and Livy reports any unusual occurrences. Together, they ensure safety so that you can enjoy the spring outside without worries.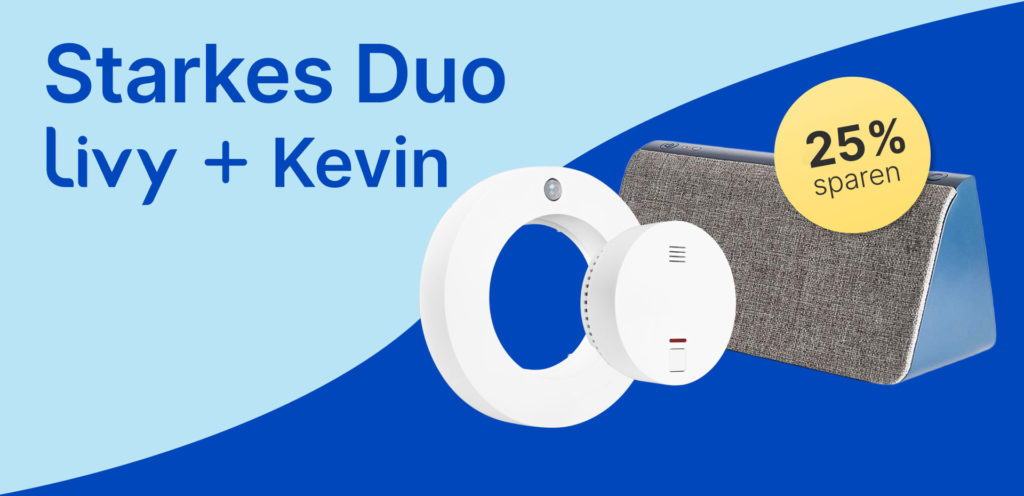 Thanks to the distribution partnership of the two start-ups Mitipi from Switzerland and HUM Systems from Germany, the two smart home devices "Kevin" and "Livy Protect" can be grabbed together. This now at a special introductory price on mitipi.com. When buying the two home security devices as a duo, you currently save 25 percent.
Kevin is like YOU
"Kevin" has already chased away burglars in the movie "Kevin, home alone". And it was precisely on this basis that the Swiss tech company Mitipi first developed the "Kevin" smarthome device. Since the launch of Kevin 2.0 in October 2020, users have been able to personalize Kevin the way they want. "Kevin" converts this into a simulation that is almost indistinguishable from a real presence. The great thing is that Kevin simulates residents performing their daily tasks not only during the night, but also during the day. The device makes shadow and light effects and emits certain sounds. There are a wide variety of possibilities, such as family conversations during meals, someone playing the piano or talking loudly on the phone.
Thanks to the Mitipi app, Kevin can be controlled from anywhere. With just one swipe, you can make sure Kevin simulates presence as soon as you leave home. At the same time, Kevin serves as a Bluetooth speaker to play music from your phone. In addition, the home security device can be used as a lamp and does not disappoint those who value design. Finally, Mitipi has not only created a nice gadget for tech-savvy people with Kevin, but a virtual roommate that has one main task to fulfill: Preventing burglaries, not only in the evening, but also during the day when you're out working or enjoying the sun in the park.
More home security: Livy reports motion and fire hazards
Livy Protect from HUM Systems is a smart multi-sensor. The latest model Livy Protect G3 includes smoke detector, motion alarm and measurement of air quality (VOC), temperature and humidity as well as modern sensors for carbon monoxide (CO), carbon dioxide (CO2) and air pressure. Through the app, you can check these values at any time and from anywhere. Livy emits a warning signal as soon as something is wrong in your home. In addition to the warning to yourself, the device sends an SMS to everyone who has been given access permission on your smartphone. For example, you can warn other residents, neighbors, relatives or friends.
Since its launch, Kevin has already protected more than 2000 households in Switzerland alone. In combination with Livy, Kevin now offers all-round protection for every home.