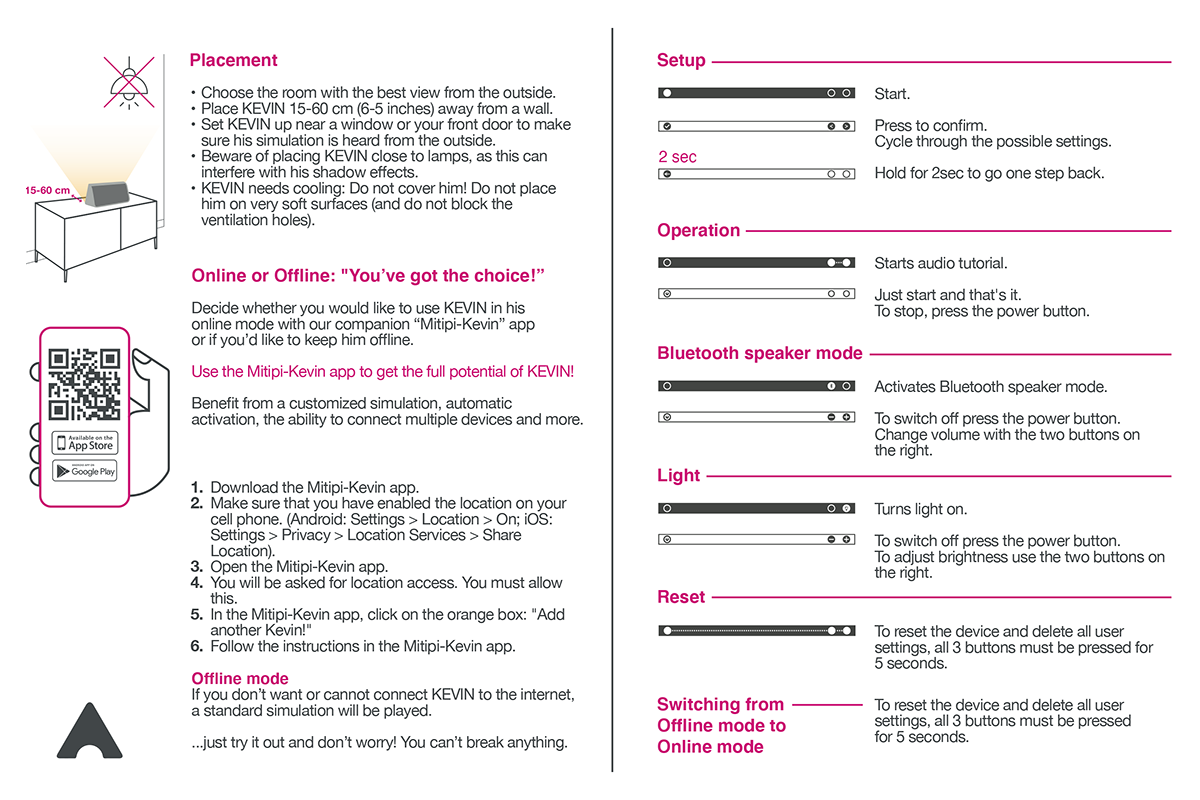 Check on your mobile phone under Settings if your location / position is ON.
Place KEVIN® close to your WIFI router, or as close as possible.
Set KEVIN® to factory settings (press all 3 buttons simultaneously for 5 seconds).
Turn KEVIN® on (press the button "On" on the device).
Open the Mitipi Kevin app (from here on you should do nothing on KEVIN®, do not press any buttons, otherwise you will shoot down the process and lock the device).
If your KEVIN® appears on the Mitipi Kevin app, but with a red dot, wait one minute.
If nothing happens, swipe the lower field to the left, then the orange field appears "Install new KEVIN®". Click on this.
Now proceed as you would install a new KEVIN® (i.e. press the "activate" button).
Now the screen should show "Pairing…".
If it does not connect within one minute, check if your location on your mobile phone is on (see point 1).
If it is ON, wait one minute.
If nothing has happened, close the app (double-click and swipe away).
Open the app again.
Please wait one minute. Then he should have connected.
ATTENTION!
You might also not be able to connect if you have a new WiFi name, a new router, a new account or a new password. In this case, you should reset and setup you KEVIN® again.
If you changed WiFi from 2.4GHz to 5Ghz, then configure a dual band 2.4Ghz and 5Ghz WIFI with different names, e.g. Home_wifi_2Ghz and Home_wifi_5Ghz, and reset and setup your KEVIN® again with the 2.4Ghz WIFI network.
If you have a corporate cell phone, then your IT may have installed a security program on the cell phone that prevents it from connecting to KEVIN®. If so, contact your IT department or use a private cell phone to connect to KEVIN®.
If you have further problems, then write us on support@mitipi.com or get@mitipi.com.
Where do you ship KEVIN® to?
We are shipping worldwide. But please note that KEVIN® will be certified only for FCC  and IC (USA and Europe). Additionally please remember, that depending on your country, taxes and duties may apply to your cost, which we cannot reimburse.
If you don't live in one of those countries and still order a KEVIN®, it's on your own risk. We cannot guarantee any import or compliance, nor say anything about further involved costs or problems for example when customs ask for local certifications or might stop the import.
If I order KEVIN®, what will be in the package I get?
Each KEVIN® comes with a power supply and a cable. All you need to start right away!
→ power supply for US, UK and Europe compatible
Can KEVIN® be hacked?
The communication is encrypted with a TLS protocol. We use the highest security standards to prevent anyone unauthorized accessing it. Sensitive information is further encrypted on the chip, therefore a hacker will need physical access to the device in order to crack it, which is rarely the case. Moreover, each device has its own secured identity, one hacked device will be easily isolated and do not make an impact on other devices. Best security practices are also applied to our companion mobile application.
Why is there no camera integrated in KEVIN®?
KEVIN®'s job is to prevent burglaries. As KEVIN® is set up inside a house or an apartment, a camera could therefore only communicate when a burglar has already entered the apartment. The camera would thus not solve the problem.
Additionally, not everyone wishes to have a camera in their apartment.
However, we want to connect KEVIN® to a camera in the future. That way, you will have prevention and detection covered.
I am a journalist. How can I get more information?
Patrick our CEO is looking forward to your message! Just e-mail patrick@mitipi.com.
How can I contact your team if I have any more questions?
Write us at get@mitipi.com or support@mitipi.com!
How can I give you guys feedback?
We're always happy to receive feedback – good and bad. We want to make your experience as great as possible, and we know that there are probably things we can still improve. Write us at get@mitipi.com or support@mitipi.com!